We are Proud to be The Largest Owner of Military Housing.
Hunt Military Communities creates a living experience that ensures the integrity of our military communities and the families who live there.
The passion for what we do is sparked by the fact that we are one of you. Many of us have personally served in the military while others have a family member or close friend who has served or is serving our country. This special bond with the Armed Forces allows us to understand first-hand some of the challenges military families face and helps drive our desire to take care of everyone who is a part of a Hunt Military Community.
We aim to provide more than just housing. We are entrusted to create quality communities that meet the needs of our residents and we take that responsibility very seriously. We are deeply committed to honoring and serving these heroes and their families. When you live at a Hunt Military Community, you'll always feel at home.
Hunt is the most experienced and largest owner of military housing in the U.S. Hunt owns approximately 52,000 homes spread across more than 40 military installations on Navy, Air Force, Marine Corps.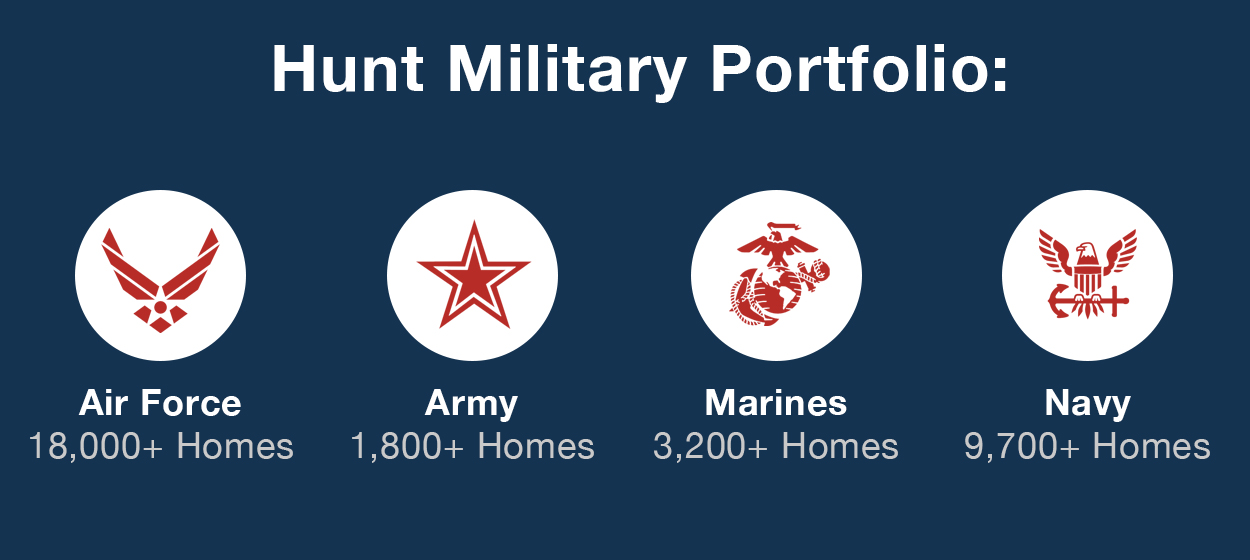 ---
HMC is committed to improving the living experiences of all of its residents. In support of this goal, we pursue excellence everyday -- what we call 5-Star Service. -For us, providing 5-Star Service means:
APPEALING HOMES – At HMC, we are committed to providing the highest-quality housing for our military families. We work to ensure our homes foster the well-being of military families. Worry-free living is the standard we endeavor to achieve.
THRIVING COMMUNITIES – At the heart of every community are the people that live there. HMC is committed to being a supportive and thoughtful resource and provides ongoing activities that create a true sense of belonging.
SERVICE SATISFACTION – HMC strives for 100% satisfaction in all that we do. We are accountable for understanding the challenges our residents face and delivering exceptional service.
COMMITTED EMPLOYEES – We are committed to hiring talented and enthusiastic individuals to be part of the HMC team. We recruit people who want to work as part of a strong, unified team and be a part of something bigger than themselves. HMC employees are characterized by their integrity, kindness, selflessness, and are committed to doing the right thing.
RESPONSIBLE STEWARDS – As a partner with the Department of Defense, we are aligned in our role as long-term stewards of the communities we operate. HMC maintains welcoming communities for our residents and their families, and we are committed to the sustainment of these communities for today and into the future.

Pillars of Excellence
Excellence
We are committed to exemplary service, safety and hold ourselves accountable to the highest level of performance.
Customer Commitment
We are committed to those we serve and their individual needs are at the center of all decisions.
Integrity
We are good stewards in doing the right things in the right ways.
Accountability
We strive to honor our commitments. We take responsibility for our actions and to accomplish our work on-time, with the highest quality possible.
Continuous Improvement
We are never satisfied; we relentlessly pursue continuous improvement and excellence in projects, products, processes and services and define success as getting the right things done well.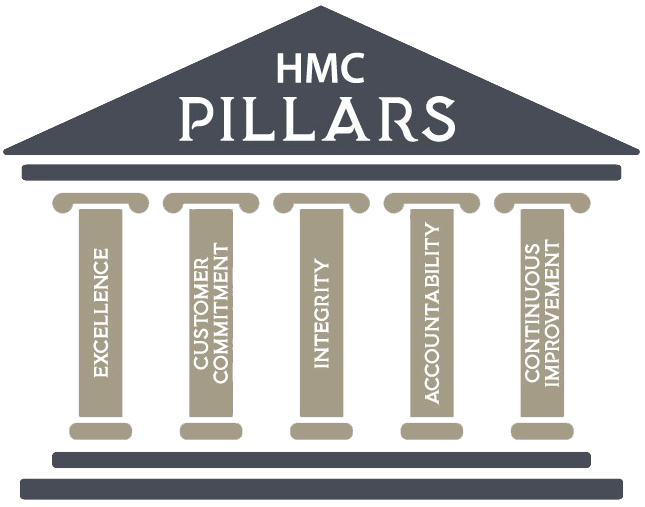 Hunt Military Communities invites you to learn more about any of our stellar communities listed here and looks forward to you becoming our newest resident.
Welcome home!